Sunday saw the Continental Star U13s return to league action against Astwood Colts. Our League form this season has been exceptional and it was important that we carried last year's form into the New Year.
As the game got under way it was clear to see that the majority of our starting eleven was feeling the strain, as they had not played for three weeks. The boys were second to every ball, pulling out of 50/50's and missing clear cut opportunities. We were very scrappy in the middle of the park and continually allowed our opposition space and time on the ball. At times the boys showed glimpses of their previous form and played some good football. Most of our positive play came down the left side. We broke down the left on three occasions within ten minutes but were unable to capitalise due to wanting to much time on the ball and forcing the play. Astwood Colts rarely ever threatened in the first half as they found it difficult to overcome the power and pace of our defence. As the first half came to an end, the game remained scoreless; it was a very disappointing half of football from both sides and neither side really got out of the blocks.
After a quick half time talk and a tactical change the boys went back out in a new formation. For the first time this season we played 4-6-0, that's right, we played with no striker simply six across the middle. This change immediately changed the game as Astwood Colts found it near impossible to get the ball past our midfield line, never mind our defence. We soon began playing the football the earned us so many positive results in games previous. We were playing football from the back to the front and defending as a unit. With fifteen minutes played in the second half we quickly broke down the middle. An impressive pass by Hameedh Hassan was latched onto by Ross Reid. Reid went one on one with the opposing goalkeeper but had his shot saved. Kehnan Williamson then put in the rebound from close range; it was now 1-0 to Stars. Ten minutes later a commanding run by Lekarri Moses, down the left hand side, saw him score an impressive solo effort to make it 2-0 to Stars. After this goal it was all one way traffic. Stars completely ran away with the game and became unplayable. With this being said they continued to miss chance after change. According to my count, if they converted all missed chances they would of ran out 13-0 winners as Astwood failed to create any clean cut chances throughout the game.
Even though our finishing was something to be desired, the boys continued to play some decent football and fought on for what can only be described as a scrappy 3 points. Well done Stars.
Man of The Match: Likkle Snm Christian Lukoki
Goal Scorers: Lekarri Moses (1) Kehnan Williamson (1)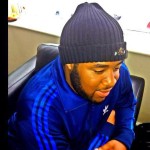 Report By: Ras Matthew 6/01/13