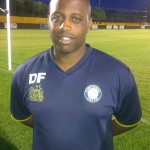 Head Coach, Delton Francis is entering his fourth season at the club, but if it were not for a chance meeting in a local bank with General Manager, Lincoln Moses, he might never have taken up his first coaching post and life could have been entirely different for both Continental Star and Francis.
Delton Francis recalls his chance meeting with Lincoln Moses: "…I can't remember exactly what was said in the conversation, but I left his company feeling really happy about the decision I had just made."  It wasn't until preseason had begun did Francis realise the enormity of the job he had taken on; it was crucial that he found an assistant that shared his passion and drive to succeed.  Ex-professional footballer, Darren Wright, was the man; he was someone that Francis had met eight months previously whilst they were both doing their FA level 2 coaching course.
Continental Star finished a respectable 10th place in the league, but both Francis and Wright were disappointed as they felt that they were not fully tapping into the potential within the club.  Francis spent most of the close season reflecting on how to move things forward: "…Lincoln and myself had lots of conversations regarding the issues at the club and we decided to have a massive restructure…"  The restructuring required Francis to work closely with all the Junior team coaches at the club.  This involved putting on coaching sessions for the coaches, so that a common approach was adopted throughout the club.  Nothing was left to chance as Sport Psychologist, Jamie Edwards, was invited to put on a workshop for both the coaches and players.  Francis' revolution was being facilitated by Star's Second Strike programme which had aimed to produce good quality coaches.  Francis and Wright's hard work paid dividends in their second season when the first team won the league.  Francis recalls: "We managed to win the league with an almost unchanged squad of players."
In November 2012 Francis' day job [working in a school] took him to Wast Hills, Birmingham City FC's training ground under the auspices of footballer Leroy Lita.  The visit brought mixed feelings for Francis, as he "…had not been there since being released from there [Birmingham City] at the age of 19."  This visit only served to whet Francis' appetite as he recalls "…I decided that it was time I took the next step in my coaching career and wrote an email to Birmingham City and Aston Villa…"  Birmingham City invited Francis in to take a coaching session for their U14s and consequently offered him a part –time job in the Youth Development Phase.  Francis said that: "The amount of coaching knowledge I gained from Birmingham City was amazing…the Premier Skills coaching methodology really enhanced my coaching skills."
Today, the example of Francis' restructuring and Star's Second Strike programme are still evident, as 17 year old, Lemaar Rhule, becomes the latest youth team player to make his First team debut.  As for Francis, he has secured a coaching position at West Bromwich Albion FC, along with fellow Continental Star coaches: Aaron Moses-Garvey and Jason Sylvester.  As for Francis' assistant, Darren Wright, and Reserve team coach, Wesley Hughes, they are coaching at Wolverhampton Wanderers FC.
Darren Wright                        Wesley Hughes                          Jason Sylvester
Aaron Moses-Garvey is celebrating the realisation of a football dream after securing a coaching role with West Bromwich Albion.
Moses-Garvey is one of the latest beneficiaries of The Football Association's COACH bursary scheme, which aims to address under-representation of Black, Asian, and Minority Ethic coaches at higher levels of the game.
His achievement is part of the remarkable success for the Birmingham-based Continental Star, who play in the Midland Alliance and now have five coaches working with professional clubs.
Moses-Garvey said: "It means pretty much everything really. Not being able to make it as a professional footballer, coaching was the next route. I have always been part of grassroots football by coaching at Continental Star FC, and my new job will not only help me but also the community that I serve." 
"It's a two-part role, I'll be working in the foundation phase which is academy and pre-academy from age six to U11s , as well as working as a development coach for the U15s." 
COACH aims to provide support for coaching qualifications, work experience, while generating opportunities to observe top coaches and benefit from mentoring. It assists those with at least a Level 2 qualification and who are aspiring to higher levels of coaching and are committed to following through a programme of work for a season.
Reflecting on his experiences as part of the COACH scheme, Moses-Garvey added: "It was really good. I was involved in one of the original pilots at Aston Villa. From day one I felt like part of the team at West Bromwich and I have learnt a lot in the six months I have been there." 
The bursary programme is managed by Brendon Batson for The FA, with support and input from The FA's Equality team.
Source: FA.com
Read more at http://www.thefa.com/News/my-football/coaches/2013/jul/fa-coach-bursary-scheme-jul-15.aspx#OV7h8myyxvqSUGVi.99